Works
Last Star I See at Night, 2022
acrylic and fiberglass on canvas and wood, 97 x 86 x 10 cm
DelMarVa Crab (Blue Bayou), 2022
acrylic and fiberglass on wood, 97 x 101 x 10 cm
Lodon Tea Dragon, 2013
acrylic on wood, 153 diameter x 13 cm
The Tour Makes The Man, 2004
acrylic on plexiglass, 162.5 x 92.5 cm
The Black Torches, 2014
acrylic on wood, 123.8 x 69 x 5 cm
Last Star I See at Night, 2022

DelMarVa Crab (Blue Bayou), 2022

Lodon Tea Dragon, 2013

The Tour Makes The Man, 2004

The Black Torches, 2014
Portrait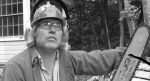 In his work, Blair Thurman deals with American society and its achievements. First and foremost, car culture with its fast cars, highways, race tracks and the associated speed and movement has been the focus of his interest since childhood. It is at the same time an essential component of the American myth and an expression of individual freedom and mobility.
Thurman's artistic oeuvre is just as varied as the flood of stimuli of a US American metropolis: brightly colored neon tubes, bright colors, geometric reductions, round shapes based on rotating wheels, as well as concentric circular lines testify to a strong visual effect, inviting the sometimes irritated eye of the beholder to scan the works again.
Cables, exposed wire holders or adhesive tapes clearly refer to everyday culture and lend his installations something trashy. But not only the use of everyday objects, but also the simplification of form, monochrome color applications, and the differently shaped picture carriers express Blair Thurman's multi-layered preoccupation with the pioneers of 20th-century art history such as Frank Stella or Dan Flavin, as well as representatives of Pop and Op Art.
Thurman's works combine motifs from American culture with stylistic elements from his artistic predecessors
Biography
Born 1961 in New Orleans, Louisiana, USA
Lives and works in New York, USA
Education
1988
Master of Fine Arts, University of Massachusetts, Amherst, USA
1984
Bachelor of Fine Arts, Nova Scotia College of Art and Design, Halifax, Canada
Selected Solo Shows
2022
"Blair Thurman", FRAC Normandie Caen, France
"Grenadine dreams ", Xippas, Geneva, Switzerland

2020
Blair Thurman", Frank Elbaz, Paris, France
2019
"Blair Thurman", The Journal, New York, USA
"Blair Thurman", Galeria Mascota, Mexico City, Mexico
2018
"Blair Thurman" (with Justin Adian), galerie lange + pult, Zurich, Switzerland
"Exquisite Course", Peres Projects, Berlin, Germany
"Blair Thurman: Nell'Acqua Azzurra", Garage Italia, Milan, Italy
2017
"Blair Thurman", Gagosian Gallery, Geneva, Switzerland
"Alpine Stereo", Andrea Caratsch Gallery, St. Moritz, Switzerland

2016
"Blair Thurman", Frank Elbaz Gallery, Dallas, Texas, USA
"Blair Thurman – Mature Blonde", Almine Rech Gallery, London, England

2015
"Honeybadgers by Blair Thurman", Museum of Art, Oklahoma City, USA
"Blair Thurman", Peres Projects, Berlin, Germany

2014
"Blair Thurman", galerie lange + pult, Zurich, Switzerland
"Blair Thurman", Gagosian Gallery, New York, USA
"Blair Thurman", Frank Elbaz Gallery, Paris, France
"Blair Thurman", Magasin CNAC, Grenoble, France